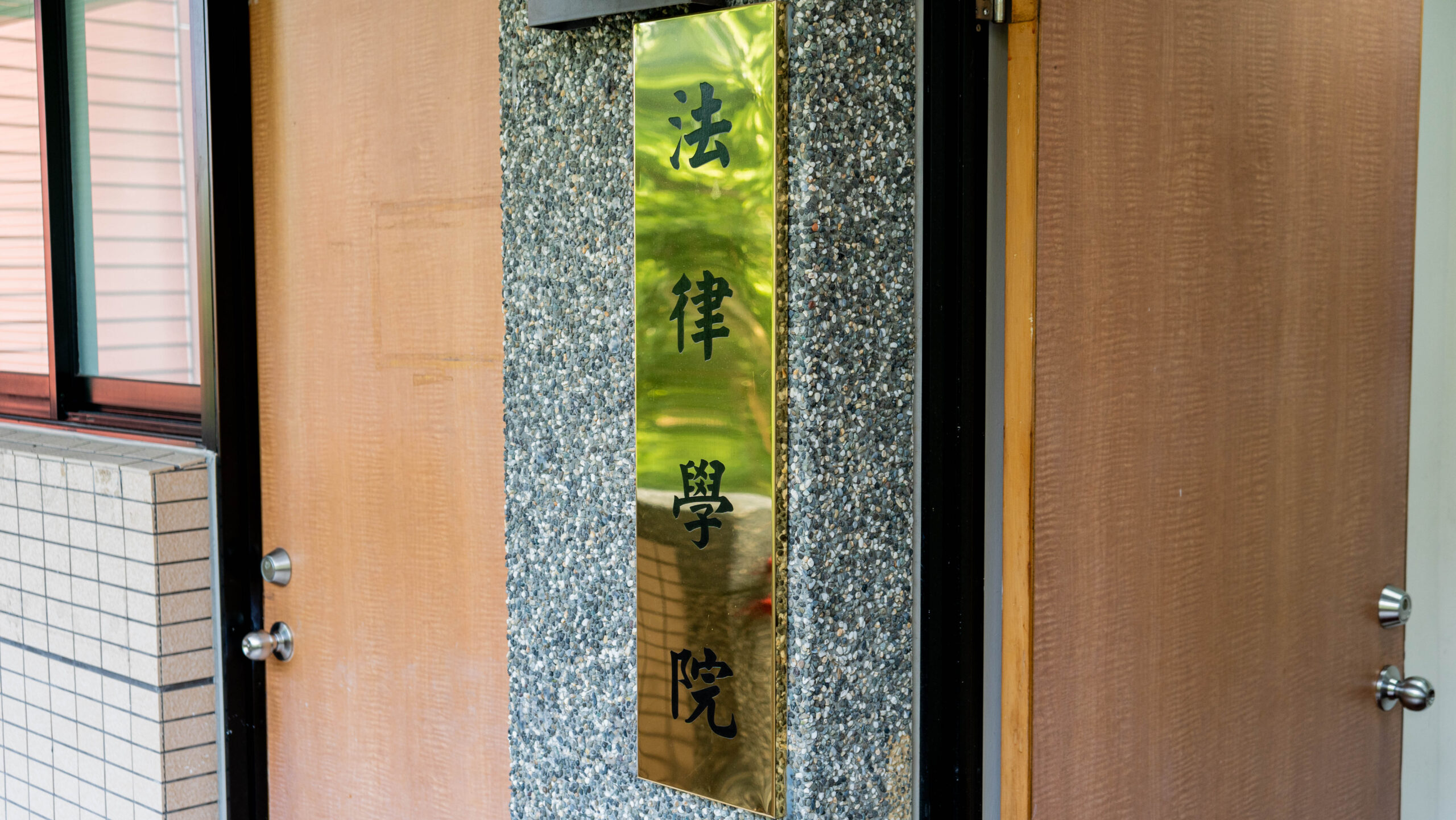 The School of Law (hereinafter referred to as "the School") was founded in 1993 as the Department of Law. In 1996, the School established the Institute of Law (which officially enrolled students in 1999). In 1997, the Department of Law was upgraded to the School of Law to conform to the school's restructuring as a university. Based on the needs of social development and the concept of professional division of labor, the School currently has two departments, the Department of Law (including the master's and professional master's programs) and the Department of Finance and Law (including the master's program).
The School emphasizes students' personal development, cultivating middle-level legal professionals who possess traditional legal expertise, fundamental skills in information and intellectual property, as well as in corporate and financial law. The School also strives to instill in its students a sense of responsibility, high ethical standards, basic foreign language proficiency, information literacy, and humanistic qualities, with the goal of contributing to society and the nation.
Undergraduate Department in Law

→Bachelor of Laws (LL.B.)

Master's Degree in Law

→Master of Laws (LL.M.)

Executive Master's Degree in Law

→Master of Laws (LL.M.)

Undergraduate Department of Financial Law

→Bachelor of Laws (LL.B.)

Master's Degree in Financial  Law

→Master of Laws (LL.M.)
The school places emphasis on student counseling, with the aim of cultivating legal professionals who possess a strong foundation in core competencies, legal theory, practical knowledge, as well as a sense of responsibility, high ethical standards, basic foreign language proficiency, information literacy, and humanistic qualities, with the goal of contributing to society and the nation.
To cultivate individuals with a sense of responsibility, high ethical standards, team spirit, and enthusiasm for serving society.

To train legal professionals who possess both theoretical and practical skills.

To cultivate individuals who have a solid foundation in foreign languages, and who can absorb and apply international information.
The basic qualities of legal theory and practical knowledge.

The basic qualities of integrating legal and financial knowledge.
To understand and study legal norms, as well as their theories and practical applications.

To utilize critical thinking and judgment to solve problems.

To communicate, coordinate, and clearly articulate legal opinions.

The ability to master information technology tools to search and apply them in the legal profession is an important core competency for legal professionals in today's digital age. This includes proficiency in using legal databases, online research tools, and other technological resources to conduct legal research, analyze legal issues, and prepare legal documents. It also includes the ability to effectively communicate legal information using digital communication tools such as email, messaging apps, and video conferencing software.

Proficient in knowledge related to the integration of finance, technology, and law.

Basic foreign language proficiency and international perspective.
Characteristics of Our School
The establishment of our school aims to cultivate legal administrative and judicial talents needed by the country, while also cultivating legal experts in specific fields required by modern economic activities. Our school has three distinctive features:
Emphasis on theory and practice: Law is an applied discipline, and our school combines theory and practice in teaching methods, faculty recruitment, and curriculum design.

Strengthening specialized professional training: In order to adapt to the trends of social and economic development, our students are required to receive specialized training in specific fields in addition to core courses. This is to enhance their competitiveness in employment and further education. Thus, our school has established the Department of Law and the Department of Finance and Law. In addition, we actively promote concrete measures such as certificate counseling classes, credit programs, and internship programs to effectively enhance students' employment competitiveness.

Focus on cultivating English and information literacy: Our school follows the education policy of the university, requiring students to take English and information-related courses each semester. At the same time, we actively assist students in participating in English proficiency tests (TOEIC, GEPT, etc.) and information literacy tests (TQC) to obtain basic employment thresholds in the future.
The School of Law has a strong faculty team consisting of 4 endowed professors, 19 full-time faculty members, and 40 adjunct faculty members. The current student body comprises 78 graduate students and 611 undergraduate students.
Starting from the academic year 2011, the former Department of Science and Technology Law was merged into the Department of Law.
To achieve the ideal of "professionalism in legal education," the College of Law established two departments, the Department of Law (including the master's program and the master's in-service program) and the Department of Financial and Economic Law (including the master's program).
Starting from the academic year 2011, each department has its own independent admission system, and students are assigned to their departments upon admission without the need for a deferred admission system.
---
Dean LIU, SHIH-HAO
Educational Backgrand
Dr.iur., University Trier
Specialty
Labor Law, Civil Law
Experience
The Political Vice Minister of Ministry of Labor, The Chairman of Taiwan Labor Law Society
Telephone
02-28824564 #2750
Homepage
Introduction to Academic Departments
    The Department of Law aims to cultivate professionals with both legal and judicial expertise and academic abilities through enhancing theoretical education and practical training. We strive to nurture students who possess a sense of responsibility, high ethical standards, team spirit, and a global perspective, in order to contribute to both the country and the international community. Our curriculum not only emphasizes legal professional literacy but also focuses on practical and interdisciplinary integration courses to develop students' employability skills.
    Established in 1992, the Department of Law currently has two classes per grade for undergraduate students, with a maximum capacity of 52 students per class. We also offer a "Science and Technology Law Credit Program" to meet the demand of our students for establishing legal sub-specialties. In addition, we have a master's program in Law, approved in 1999, with an annual enrollment of 18 students. Our graduate students mainly come from undergraduate law departments or related fields such as financial and economic law, political law, finance and law, and science and technology law.
    Adhering to the "One Thought and Three Transformations" and pursuing the education philosophy of excellence, specialization, and internationalization, the Department of Law upholds the school motto of "Sincerity, Simplicity, Respect, and Perseverance." We also implement the all-round quality management of "strict management and diligent teaching," the education goal of "applying knowledge to practical use and market-oriented," the combination of technology and humanity, and the school characteristic of "entering the community and heading towards the international community." With continuous development, we aim to cultivate useful legal talents for the country and society.
    In recent years, Taiwan's financial industry has been developing vigorously, and the government has also identified it as an important industry for national development. However, due to the high level of regulation in the financial industry, there has always been a high demand for financial and legal talents in the job market. Financial and legal affairs play a significant role in the development of the commercial and industrial society, and the regulation of these affairs is essentially a highly specialized field.
    Looking at the current reality where many universities and technical colleges have established departments of finance and law, this department is uniquely positioned to cultivate legal professionals with expertise in finance and law. This is highlighted in both form and substance by the special educational goals and objectives of this department.
    In terms of course design, in addition to basic legal courses such as constitutional law, civil law, criminal law, administrative law, and commercial law, this department also offers unique courses in the field of financial and legal studies, such as securities trading law, futures trading law, financial regulations, and tax regulations. In addition, courses in finance and related fields, such as economics, accounting, financial management, financial statement analysis, and monetary banking, are also offered. The department also actively assists students in various financial and legal professional certification exams. The main purpose of these course designs and support measures is to reflect the department's efforts as a specialized educational institution in cultivating legal and financial talents in Taiwan, especially in the corporate and financial job market where such talents are urgently needed.
Legal Electronic Database
Beck-online Premium(德國法律資料庫)  /  Authorized from School
Lexis.com (雷克思法律資料庫)  / Authorized from School
法源法律網論著資料庫  / Authorized from School
lawbank.com.tw法源法律網法學資料庫  / Authorized from School
lawdata.com.tw月旦法學知識庫  / Authorized from School
Law Library
(Open Time: 09:00-12:00/13:00-17:00)
      The law library is open for student use during school hours and has been maintained by students in the first and second year of the master's program since the 108th academic year in order to encourage student use. This action promotes student self-management and responsibility, and enhances unity and cooperation among students, making the library a better learning environment. In addition, through student participation, the workload of the law library management staff can be reduced, making the library more efficient in providing services. However, while students maintain library order and cleanliness, they should also pay attention to protecting the integrity of library resources and facilities, as well as maintaining a good learning atmosphere to ensure the library's functionality.
Classes for Master Class Students
(It's E-classes. There is a computer and projection equipment in the classroom, including wi-fi.)
Postgraduate Research Room
(Every student have exclusive research space, setting up power suply and network line.)
Classes for University Program Students
(Setting up OA office chairs, suiting for evening studying.)
Teacher Research Room
(Every full-time teacher all have research room, setting up a computer, OA tables and chairs inside.)
      All full-time teachers gather in their respective research rooms, and the designated times for staying on campus are clearly posted at the entrance of each room. This facilitates communication between students, research students, teachers, and supervisors, and enhances the effectiveness of counseling.
Situational Classroom- Smart Practice Court
(For class and moot court)
      This passage describes a practice court in a court of law, which was planned and established in accordance with the civil/criminal courts of the Taiwan High Court in 2008. In order to accommodate the current practices of the court, the court obtained a competitive grant in the 108th academic year and reestablished and updated its software and hardware equipment. The hardware equipment engineering included the installation of VR equipment, the replacement of judge's desks, the interior decoration of the practice court, and the wiring of information equipment, which were completed from December 2019 to June 2020.
      In order to add intelligent speech recognition capabilities to the Smart Practice Court and implement the spirit and functions of artificial intelligence, the Information Network Department handled the testing and integration of speech recognition system-related equipment (software and hardware integration) to complete the construction of the VR courtroom and speech system.
      The renovated Smart Practice Court was officially inaugurated on April 27, 2020.
    The faculty structure and curriculum planning of our institution have established a strong foundation since its establishment, with the strong support of the school. Over the years, with the efforts of all faculty and students, our performance has surpassed some of the law departments established before our institution, and we have received high praise from visiting committee members in the recent higher education evaluation. In summary, our institution currently has the following advantages or characteristics:  
Inviting distinguished lecturers from renowned universities.
An all-institution examination system.
A diverse range of characteristic courses.
Emphasis on foreign language and information technology training.
A focus on the integration of theory and practice.
A strong emphasis on employment certification courses.
Active participation in professional legal services.
A comprehensive system of life and academic counseling.
A mechanism for integrating resources across departments and institutions.
    In the future, building on our excellent foundation of hardware and software facilities and faculty and student performance, we will continue to enhance our students' relevant certification capabilities (e.g., real estate, securities, trusts, insurance, and banking certification courses) in response to national legal personnel training reform. Moreover, in line with the historical trend of integration in higher education across the Taiwan Strait and internationally, we will continue to strengthen our exchanges and cooperation with legal education institutions in Mainland China and other countries, establish sister colleges, promote dual-degree programs, and student exchanges, and expand our faculty and students' academic and career fields and development.
Introductory Video of Department of Law
Introductory Video of Department of Financial Law